Publish date: 10 November 2022
Come along to this year's Alternative Christmas Fair
Friday 16 December, from 11am to 3pm at Dalgarno Community Centre, Dalgarno Trust, Dalgarno Way London, W10 5LE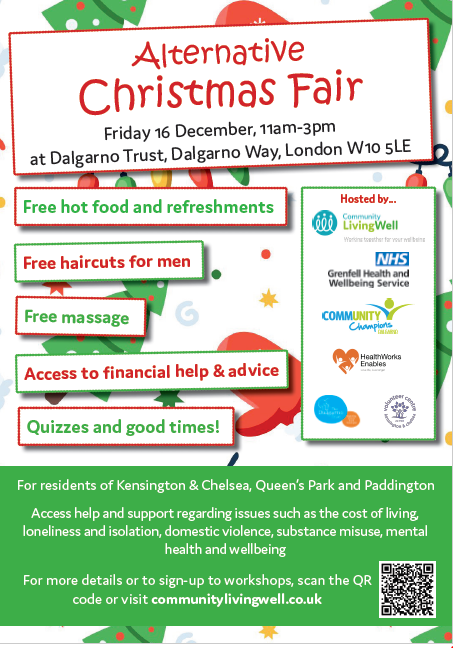 Christmas is seen as a time of joy but for some, it can also be a time of financial hardship and worry, loneliness and isolation, grief, increased substance misuse and domestic violence. Any of these factors could impact a person's wellbeing but at a time of the year when there is pressure to appear happy and buy a memory, it can be unbearable.
The Alternative Christmas Fair brings together many of the amazing support services the borough has to offer that can help with things like:
debt management
substance abuse
domestic violence
help with fuel poverty
support with your mental health and wellbeing.
We will also highlight organisations that will be open over Christmas, activities for people who will be alone over Christmas and a chance to sign up as a volunteer to support these activities/organisations.
Stall holders include:
NHS Grenfell Health and Wellbeing Service
Community Living Well Talking Therapies (IAPT)
Kensington and Chelsea Mind
Community Living Well Peer Support
SMART (St Mary Abbots Rehabilitation and Training)
Community Champions
and many more to be announced.
Workshops
Coping with Christmastime: 1.5 hour face to face workshop 1.30pm to 3pm, at Dalgarno Community Centre
The holidays around Christmastime are a time of year that has come to mean many different things for different people. Often, it's a difficult time with the family and financial problems it can bring. Whatever our spiritual background and however we feel about Christmas, we are surrounded by it.
In this workshop we will support each other in looking at how we may be affected by the different aspects of this time of year, including: loss, eating/drinking too much and facing the New Year.
In particular we will work on:
Exploring what we feel about Christmastime
Deciding how to look after ourselves
Thinking about how to manage our relationships
To book your place you can email: grenfell.wellbeingservice@nhs.net
Or call 020 8637 6279 (Everyday 8am to 8pm)