Publish date: 10 June 2021
The NHS stands alongside the Grenfell community during this difficult time around the Fourth Anniversary; We know this will be a tough time for families and the wider North Kensington community.
As in previous years, we are here to support the community.
How to reach us
On Sunday 13 and Monday 14 June, NHS workers will be in the community supporting bereaved and survivors to visit inside the site cordon to pay their respects.
We will be in the area around the Tower if people would like to chat in person or need support. Our staff will be wearing green NHS T-shirts and their NHS IDs.
Our staff will be at the The Curve (10 Bard Road, W10 6TP) and at the SPACE (214 Freston Road, W10 6TT) during the day on Monday 14 June, if you'd like to drop-in for coffee/tea and a chat.
People can also call 0208 637 6279 every day from 8am to 8pm. After 8pm and out of hours please call the CNWL Advice Support line on 0800 0234 650.
This year, we supported various projects to help the community mark the anniversary.
Green Snap project – The Grenfell Health and Wellbeing Service hosted the Green Snap project, which involved people in the community submitting photographs of something green, to create a community heart collage. As part of the project, we also hosted a local craft and photography event, attended by families from the area. We collected nearly 200 photographs, which and we combined to make one massive heart collage, now on display on the fencing near Latimer Road Tube Station. (See photo) The collage will be on display until 15 June.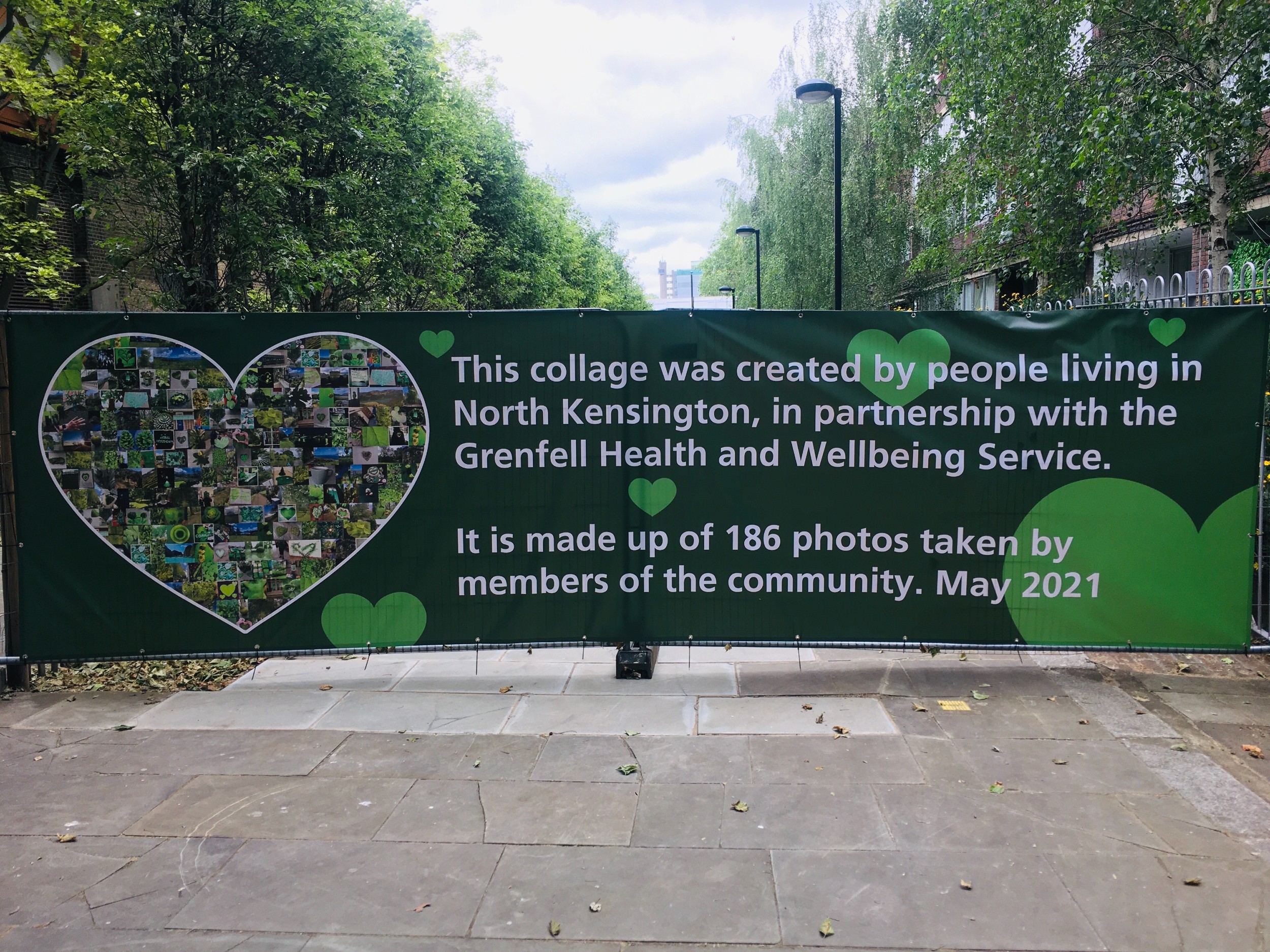 Children's Community Banner – We worked with the community to support its annual Remembering Together event – a children's community banner which travelled around the area so children could contribute to it. The banner is on display at the entrance of the site cordon.
Heritage Project – We supported bereaved and survivors' children in this project that saw them creating crafts related to their heritage.
Useful information
There's information on how to look after yourself and your family in our leaflets here.
There's also information on the type of support we offer in this leaflet here
Forever in our Hearts.